FREE DIGITAL MARKETING ZOOM CALLS
FREE ZOOM DIGITAL MARKETING BEGINNER WORKSHOPS
After all our successful digital marketing seminars with Santander, we are delighted to be providing these online workshops on Zoom in collaboration with Sarah Gonzalez the business bank manager at Basingstoke Santander.
Our first one of 2021 was 12 January and we will be running these every couple of months.
If you would like to add your name to our waiting list for our March events, please use the form provided.
MARCH 2021 WILL BE OUR NEXT EVENT
Date to be announced
10am to 11.30am - Startup businesses within the last year
1pm to 2.30pm - Established businesses 

Places will be limited to just 9 attendees, so please book early!
WHO ARE THESE FOR AND WHAT WE COVER
These free 1.5 hour Beginners Digital Marketing Workshops have been divided into two sections; start-up businesses who have started their business within the last 18 month and are new to digital.
Also for established businesses who are starting to think they should be doing digital advertising just but don't know where to start!

We'll help you understand how to engage with people on Facebook, how to build an audience, what type of posts work and which ones don't. Explain what a 'TAG' and 'HASHTAG' is and when to use them.

We'll critique some of the attendees FB posts and messaging and look at companies who are doing it great and and why.
If time permits we will also be covering SEO tips and GoogleMyBusiness.

Our sessions are always very interactive so we are happy for you to send any specific questions to us beforehand, or have the questions ready for us.
We look forward to seeing you!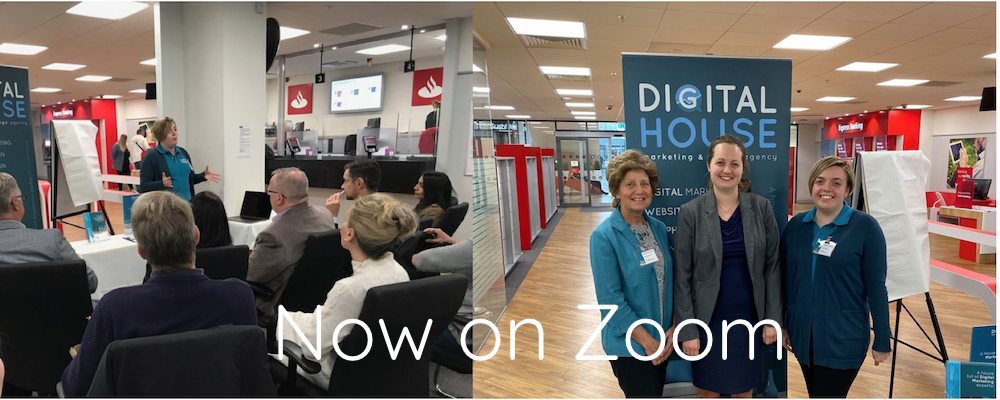 Digital Marketing Zoom Consultation Testimonials
Digital Marketing Zoom Consultation Testimonials
"Just had a fabulous zoom session with Barbara of Digital Marketing Hampshire - she is ace at giving advise on marketing
Barbara and her daughter Sarah are a fabulous team who run Networking Meetings, Workshops, help with websites along with a host of other services. 
Thank you Barbara" June 2020
See other testimonials here:
https://www.facebook.com/DigitalHouseMD/reviews/
"I have attended a few of the Networking lunches Digital House have held and found them extremely helpful. I also attended a 'how to get more business with social media' workshop at their offices and again it was first class. Now recently (during lockdown) on Zoom, Barbara gave me a 121 session where she studied my website and social media pages and gave me a shedload of information and help. During the session I said I was going to send a newsletter and Barbara offered to 'red pen' it if I sent it to her - the result was fabulous! I feel as if I have come up a notch since the session (which was free and yet she gave me over an hour of her time!) and cannot sing her praises enough! They are a very professional company and I have already started telling my business colleagues about them." (Reviewed May 2020)
"I had online marketing consultation with Barbara regarding my start up business. As this was free I thought this would be quite brief but to my surprise Barbara spent over an hour going through all aspects of my business and gave me vast amount of ideas and information to work with. I would highly recommend Digital House and Barbara who looks at each business individually.
Thank you so much again for all the help.
I cannot praise Digital House enough." (Reviewed April 2020)
See other testimonials here: 
https://www.buywithconfidence.gov.uk/profile/digital-house-marketing-and-design/12023/
Digital House Workshop Testimonials
Digital House Workshop Testimonials
"I attended the Free Digital Marketing Workshop for the second time to brush up what I had already learnt and learnt even more the second time around! Sarah and Barbara are so knowledgeable and explained everything clearly with lots of examples to back up their explanations. I'm really looking forward to trying out some of the social media tips and now feel ready to have a go at Facebook advertising to help increase my sales. This is a fantastic course and one which I would highly recommend."
Sue Griffiths - January 2020

"After attending one of the digital house workshops today I would highly recommend Digital House - in two hours I learnt so much information which will be advantageous to our small growing business - thank you very much Barbara, Sarah & Sasha."
Rachele Shea - January 2020

"Excellent beginners workshop very friendly and accessible presented."
Sue Davitt - January 2020

"Excellent and Informative workshop on digital marketing."
Hillary Miller - January 2020

"Fantastic I have learnt so much, I wish I had more time to pick Sarah's and Barbara's brains."
Rachele Shea - January 2020

"Fantastic friendly and informative session on digital marketing and where to begin and some fabulous hints and tips."
Nicky Young - January 2020

"We attended the Digital Marketing workshop at Santander Basingstoke and found it very informative and helpful. It was very helpful in understanding on how to create brand awareness and how to engage and build an audience on social media.
Barbara and Sarah were happy to answer any questions and go into more detail where it was needed."
Rajdeep Sandhu - October 2019

"Was different to the usual sales talk you get from digital marketing companies. Very experienced ladies with great tips."
Kakia Khalid - October 2019

"The Workshop they ran at Santander. It was very good and I had 6 pages of notes to act upon, top job."
Tony Silver - October 2019

"Thank you so much for the free advice at your workshop. It has really got me thinking of how I am going to use this information to get more customers'.
I am so pleased I attended and got so much out of it!"
Jasmine Sayer - July 2019

'Really excellent and well worth spending my time with you guys at Digital House. Very informative. Thank you"
Johnathan Lock - July 2019

"Great digital workshop run by Digital House! Some very useful advice to improving our business Facebook page and SEO presented by Sarah, Barbara and Debbie in an easy to follow format. Your ethos is so refreshing of sharing your knowledge and expertise in a free workshop. Thank you to you all!Cant wait to implement what I have learnt."
Bernadette Wheller - May 2019

"Thank you! It was a great workshop - looking forward to the next one!"
Ainslie Chivers - May 2019

"Really is very informative. The team are very supportive of local businesses. Got so many new ideas! Thank you!"
Clare Payne - May 2019

"Such a brilliant course!"
Emma Hunt - May 2019

"Thank you so much for a really great and very informative course. I can't wait to try out all the things I've learnt!"
Susan Griffiths - May 2019

"I attended a very useful digital marketing workshop at Digital House. I found the workshop very informative and inspirational, and took away some useful tools that will help me to increase my online presence."
Nicola Lucas - May 2019

"Fantastic Digital marketing workshop. Only half a day long but I came away with so much information! It was really well run, clear and very useful. I would highly recommend Digital House and certainly would like to go back to attend other workshops in future."
Anna Beres - May 2019

"A very warm welcome on arrival, a perfectly sized group to ensure each business was included in the benefits of social media. Barbara and Sarah were very knowledgeable and happy to share this with the group. This workshop was free, but I would happily look to work with Digital House in the future to assist with my marketing needs."
Michelle Tuckwell - January 2019

"It was awesome and the workshop was free!!
I am not very good when it comes to this sort of stuff however Sarah and her mum (!) Barbara presented it in such a clear way that even I learned how to!!
I can recommend them with the highest marks!!
A huge thank you - watch this space I will be increasing traffic!!"
Jan Reid - January 2019

"I attended a workshop yesterday at Digital House on Social Media. Barbara and Fiona are experts in their field and extremely helpful and friendly."
Pauline Irving - January 2019

"Brilliant Digital Marketing Workshop with Barbara and Sarah, covering Facebook, social media, Google (Google My Business, Google Ads) and SEO. The workshop was free and incredibly engaging, interesting and insightful. Barbara and Sarah have a fabulous presenting style that is very clear and the time just whizzes by. I learned so much and I can't recommend them highly enough. Thank you!"
Emma Hunt - January 2019

"Very informative and supportive and completely free of any commercial pressure.Have used a number of similar companies in the past but Digital House by way the most friendly and helpful."
John Goodridge - December 2018

"Good comfortable surroundings, good delivery of course, very open to questions, very friendly made you feel you could ask a question without making you feel you did not know what you were talking about. Definitely recommend beginners course and advance."
Peter Cullimore - November 2018

"I attended the intermediate Digital Marketing course today and was really impressed with the content. It was pitched at the right level and suited where I felt my knowledge ended. Definitely came away with a note pad full of new ideas, tips and tricks to try - No hard sell at all and everyone was genuinely friendly and welcoming - Thank you Sarah & Barbara"
Charlotte Shannon - November 2018

A great beginners workshop this morning on social media. The mysteries of Facebook and Google explained in a very simple and engaging way!
Jackie Bond - November 2018

"I've attended both the beginners and intermediate Digital Marketing courses run by Digital House, they were packed full of useful tips and gave me a really helpful steer on where I should be going for my business. The team are so friendly and professional, I'd totally recommend them to anyone. Thank you Barbara, Sarah and the team!"
Jo Morgan - October 2018

"Friendly, practical, helpful service."
Richard Francis - October 2018

"Attended the intro session with Barbara and Sara, expert knowledge, friendly, practical. Recommended. Hope to use their services in near future."
Sankalp Ag - October 2018

"Even with experience in social media management and marketing, there were great takeaways that I could implement straight away from the course. I would definitely recommend to anyone looking for that extra edge in social media and marketing. I look forward to attending the intermediate course this week."
Jordan Ellement - September 2018

"I attended a Digital Marketing workshop last week and it was extremely helpful. The team are all friendly and willing to help and explain. I came away will a lot more understanding of how Digital Marketing can help a business and also how SEO works which was my main focus."
Nicola Birdsey - September 2018

"Really informative and a great team at Digital House. Looking forward to the next course and working with them in the future."
James Kelly - August 2018

"Excellent workshop on Digital Marketing."
Vera Christensen - July 2018

"Opened my eyes to Facebook and Google - Great Course - Thank you."
Nigel Lodge - July 2018

"Very good information to Digital Marketing"
Bob Clifford - July 2018

"Really informative, well run course. Plenty to take in and think about."
Alexis Ogden - June 2018

"Intermediate Digital Marketing workshop was very informative and detailed. Very friendly atmosphere."
Rebecca Robetson - June 2018

"Friendly and knowledgeable - they gave a very organised presentation and made me feel more prepared for Digital Marketing."
Rebekah Malcolm - June 2018

"Very informative training session, recommended."
Helen Gardner - June 2018

"Very knowledgable team. I attended a free course which was very helpful, I would happily pay for another course. Thank you!"
Rachel Chapman - June 2018

"Friendly, helpful staff offering some very helpful free training that I will recommend to colleagues."
Emelye Jones - June 2018

"Great workshop, learnt lots of useful stuff to help my business going forward."
Hugo Tickler - June 2018

"The team at digital house , put together my website for me as I am setting up my own business . they put up with my nerves and spent time helping me , giving amazing advice throughout the whole process keeping in contact with us at all times and up dates , cant thank them enough and the final result of what the team put together for me was totally amazing , my website is wonderful !!!!!! for the first time in my life for a long time I was speechless , thank you so much Digital House xxx would highly recommend them"
Johanna Stacey - March 2018

"I recently attended the Digital Marketing initial workshop and found it really informative, helpful and relatable. Barbara, Sarah and the Digital House team are very experienced, knowledgeable and helpful. Thank you, I am looking forward to attending the next DM workshop."
Martine Fairchild - Jan 2018